India changes patent law to meet WTO treaty, making new medicines less available to most citizens, other countries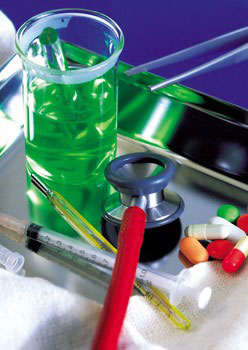 By presidential decree India changed its patent law in December 2004 to meet a January 2005 deadline to allow patents on the chemical molecules used in drugs--not only for new drugs starting in 2005 but also for many others that were patentable after 1995 (an estimated 6,000 patent applications have already been filed for these drugs). Until now India has allowed pharmaceutical patents only on the manufacturing processes used to produce drugs, not on the end products themselves--a system designed to encourage companies to compete in low-cost manufacturing, developing the nation's industry and making medicines widely available at low prices. Despite the great success of that system, its end was required by a World Trade Organization agreement demanding that all countries switch to European/U.S. type drug patents on the chemical entities themselves. ("least developed" countries, but not India, now have the option of extending their deadline to 2016.)Doctors Without Borders / Medecins Sans Frontieres (MSF) and other non-governmental organizations are worried that newer AIDS and other drugs will become much more expensive, and therefore less available to patients in poor countries.According to a widely reprinted December 30 Reuters report from India, 60,000 generic brands in 60 therapeutic areas are now available in that country--which accounts for 1% of the money value of the pharmaceuticals sold in the world but 8% of the volume, figures reflecting the low prices [1]Other articles reported that protests were planned throughout India before the final vote to ratify the new law. And in Washington DC a protest is planned near the Embassy of India on January 8. An important article in Nature Medicine, December 30, notes that India is the fourth largest producer of pharmaceuticals in the world [some say it is the third largest], and two thirds of its exports go to developing countries. It quotes an internal Indian government report as saying that in antibiotics alone, the international intellectual property agreement (known as TRIPS, which was rammed through closed-door meetings years ago when almost nobody understood the consequences of pharmaceutical patents) will cost India's economy over $700 million each year, while creating only $57 million in profits for multinationals [2]. This article also noted that at least 15% of drugs now on the market in India, including some AIDS drugs, are likely to be withdrawn--and that India is unlikely to survive on innovative drug development alone, as all three drugs so tar licensed to multinationals have not been successful, and "the first home-grown drug is at least seven years away." Some generic companies, especially Ranbaxy, the largest pharmaceutical company in India, are more optimistic that they can adapt to a research-based system--or at least survive by doing low-cost work for the high-profit multinationals. But this will not help the poor who need drugs.
Comment
The Reuters story cited above quoted an unnamed pharmaceutical executive who inadvertently diagnosed the problem. "There could easily be 70 to 80 million people [in India] who can afford expensive medicines, just as they go out and buy expensive cars, branded clothes and consumer goods. That is equal to the size of a UK or a Germany." But India has a population of over 1,000,000,000 people--meaning that the industry will be pricing new drugs for less than 10% of the population, with over 90% excluded. Reuters also noted that the new law had provisions allowing for compulsory licensing in case of national emergencies, or for exporting medicine to countries facing public-health emergencies. However, compulsory licensing provisions have proved very difficult to use when opposed by much better financed multinational corporations. And millions of other people will fall through the cracks because their cancer or other major disease is not deemed a public emergency. The January 2005 trade-treaty deadline has long been well known (it was originally earlier, but was extended for some countries including India). What is surprising is that nothing has been put into place to maintain even the existing, very limited access to new medicines for the majority of the world's population that cannot pay rich-country, multinational-corporate prices--nothing remotely equal to the scope of the problem. The real issue for the multinationals is not the poor-country markets, which are financially small, but the poor-country examples. How will thousands of people in rich countries, especially the U.S., be persuaded to accept death from cancer and other diseases because they cannot pay the tens of thousands of dollars a year that a new generation of treatments will cost--if companies in India could manufacture and sell the same medicines for a small fraction of the price? There are other ways to organize and finance drug development that do not sacrifice the great majority of the world's people when they need a new medicine, so that those who do have the money can be compelled to pay. And the current system is failing badly even at the innovation, is its main selling point--denying new treatments to everyone, not only the poor. Unless effective consensus is built, the world is headed into a catastrophe where millions of lives will be sacrificed so that a few who are already very rich and influential can hold onto current arrangements, and get a little richer.